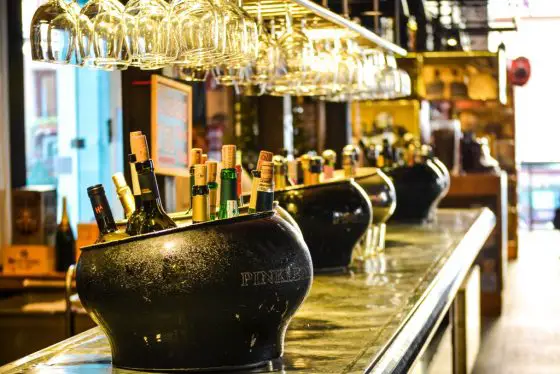 In Favor :-
With alcohol ban, problems of domestic violence & financial drain will be reduced.
When alcohol is available abundantly, chances of drinking is higher.
Total ban on Alcohol in 'Lakshadweep' is a big success.
Alcohol consumption is highly prevalent in the poorer sections of society. Ban on Alcohol will save them from financial drain.
Crimes and accidents will be reduced to some extent.
Alcohol addiction is not just a threat to the person that drinks, but also to his/her entire family.
Against :-
Supply of illicit liquor will be increased.
States will lose revenue from the alcohol sale.
Smuggling & liquor mafias will be increased. Smuggling to the 'Nagaland' state from the neighboring state 'Assam' is an example for this.
Use of alternative addictives such as drugs will be increased especially among youth.
Many people, who are working in the Alcohol industry will lose their jobs.
If Alcohol ban is implemented, people will be arrested and prosecuted for just taking alcohol. That may not be that serious crime to get punished.
Basics :-
Alcoholic beverages can be divided into 3 types – Beers (4-6% Alcohol), Wine (9-16% Alcohol) & Liquor ((or Hard Liquor) up to 40% Alcohol).
In most of the states of India, ban on Alcohol did exist during pre-independence days, but was lifted after India became independent, except in the state of Gujarat.
Till now alcohol is banned in Nagaland, Mizoram, Gujarat, Bihar and Kerala.
Andhra Pradesh, Tamil Nadu, Harayana & Manipur experimented partial or complete ban on liquor.
De-addiction centers were opened in places, where the ban is imposed.
These days political parties are promising Alcohol ban to woo women voters.
Situation in other countries :-
In 1920s, North America banned Alcohol. But this ban was a big failure. the ban came to end in the early 1930s.
In Phillippines & Turkey, restriction on alcohol are there during elections.
Sale of Alcohol is illegal in Afghanistan, Libya, Saudi Arabia, Iran, Kuwait, Yemen due to Islamic faith.
In Bangladesh, only Non-Muslims can consume alcohol.
Conclusion :-
Alcohol ban is a good step for bringing down the consumption, but total ban in a single phase may not yield good results. It must be implemented in a phased manner and the sale should be restricted to very few outlets, so that the consumption can be brought down.
Afterwords :- Do you support complete ban on Alcohol? Express your opinions in the comment section below.
---
Copyright @ Group Discussion Ideas.